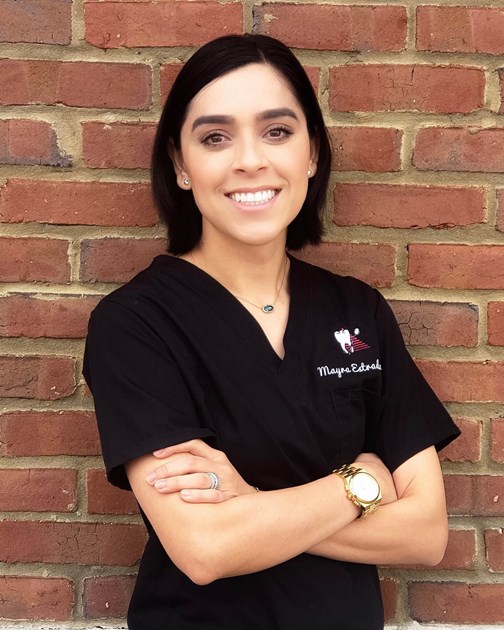 Providing the most advanced dental care in a comfortable and pleasant atmosphere are the priorities of Dr. Mayra Estrada.
Dr. Estrada earned her Bachelor of Science degree in microbiology at Texas Tech University in 2012. She then went on to earn her Doctor of Dental Surgery degree in 2017 at Texas A&M Health Science Center Baylor College of Dentistry University of Tennessee Health Science Center.
Dr. Estrada's interest in dentistry began as kid when her curiosity peaked at dental appointments. When she shadowed a dentist during college, she knew dentistry was the profession she wanted to pursue. Dr. Estrada likes to give back and wants to help eliminate the fear factor of attending a dental appointment. She is a member of the American Dental Association, Dallas County Dental Society, Academy of General Dentist, North Texas Hispanic Dental Association and Texas Dental Association.
In her spare time, Dr. Estrada enjoys running, outdoor activities, working out and going on walks with her dog Achilles. She loves spending her time with family and otherwise traveling and exploring new cultures and foods. Dr. Estrada also volunteers with organizations such as Texas Mission of Mercy, Give Kids a Smile, Operation Lone Star and she is a mentor to dental students.
Her favorite quote by Ritu Ghatourey reads, "You fall, you rise, you make mistakes, you live, you learn. You're human, not perfect. Think of what precious privilege it is to be alive – to breathe, to enjoy and to chase the things you love!"