Grooves in the top of the premolars and molars tend to harbor more food debris and plaque and so are more at risk for having decay. Dental sealants, an effective aspect of preventive dentistry, help protect the molars from cavities resulting from decay. These fine preventive coatings are created from an invisible or tooth-colored material that is brushed onto the tops of the back teeth. When they're dried, they can protect these teeth and provide a smoother surface, which is easier to keep plaque-free. Dental sealants offered at DentalWorks - Hyperlingo don't just ward off cavities, but they may also lessen your children's needs for fillings or other restorative services down the road. Talk to Dr. Dentist Two at your routine dental appointments at our City, ST facility to discover if you or your child may from sealants.
Who Is a Candidate for Sealants?
Patients 6 – 12 years old are often the most likely to develop cavities on the tops of their back teeth, meaning they are ideal candidates for dental sealants. However, those older than 12 may also be suitable for dental sealants, such as those who have a difficult time keeping up with optimal oral hygiene regimens or who are prone to tooth decay. At DentalWorks - Hyperlingo, getting dental sealants is a straightforward, uncomplicated treatment that generally does not call for sedation. Call about a consultation, and someone on our dental team can meet with you to find out if you would benefit from this simple and reliable service.
What Is the Sealant Process?
Initially, will have to look at the teeth to find out if dental sealants could be the proper service for you or your family. To prepare the teeth for dental sealants, a professional on our team will clean the enamel to eliminate any buildup, food debris, and germs from the crevices. The dried, and a fine sheet of sealant material will be placed uniformly into the fissures using a tiny brush. A dental curing light will be placed over the tooth, which will ossify the sealant coating within about 10 – 20 seconds. When every sealant is set, our team will evaluate your bite for alignment and give you tips on how to effectively take care of your sealants.
Caring for Dental Sealants
your dental sealant session, you or your little one will be able to carry on with your normal routine. Over the next few days, it will be important to avoid chewing on sticky or hard foods to help keep the dental sealants from cracking as they set into your molars. also advises people to keep up with an effective oral hygiene regimen, including flossing and brushing your teeth no less than twice daily. When tended to properly, dental sealants can remain in place for many years. The staff at DentalWorks - Hyperlingo will examine your teeth during once-yearly oral evaluations and let you know when the sealants need to be redone.
Will Insurance Cover Dental Sealants?
Given that dental sealants are generally considered a preventive dental service, many dental insurance plans approve payment for them for patients up to a particular age. Coverage can be different for teens and adults, so our billing staff will assess your family's plan and estimate any out-of-pocket expenses. DentalWorks - Hyperlingo accepts several payment options to make your dental treatment even more accessible and affordable for you and your household.
FAQ ABOUT DENTAL SEALANTS
What are dental sealants?
Dental sealants are thin coatings applied to the chewing surfaces of the back teeth (molars) that help to prevent cavities.
Is a dental sealant a better option than a filling?
Sealants are a quick and painless way to prevent cavities. A tooth without a cavity is healthier and stronger than a tooth that has a filling or an untreated cavity. Sealants are less expensive and easier to apply than a filling.
When should children get dental sealants?
Sealants prevent the most cavities when applied soon after permanent molars come in. This is usually around age 6 for the first molars and age 12 for the second molars.
Do dental sealants hurt?
Getting a sealant is easy and does not hurt. The tooth is cleaned, rinsed, and dried. Next, the dental sealant is painted on the tooth. The dentist may shine a light on the tooth to help harden the sealant to form a protective shield.
How long do dental sealants last?
Dental sealants have shown to still work approximately nine years after placement. However, sometimes they do fall off. If a tooth loses a sealant, the protective shield is gone and the tooth can get a cavity. That is why it is important to maintain regular dental appointments so they can be checked. The good news is that missing sealants are easy to replace.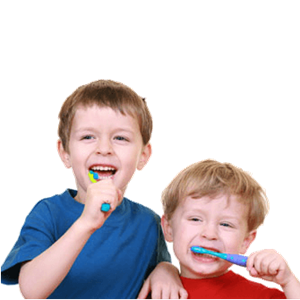 Protect Teeth From Tooth Decay
Ward off cavities and your family maintain glowing, hygienic smiles for several years. Sealants are an effective, efficient, straightforward treatment at DentalWorks - Hyperlingo that could also reduce the likelihood of future oral procedures and make way for improved dental wellness. Determine if dental sealants are good for you or your children by scheduling a consultation with at our City, ST facility!
Related Procedures
Related Posts